Angels' Baseball Fan Likes His Game With a Side of Trespass, Please!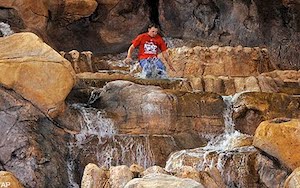 As Angels' fans basked in a 4-run lead against the Yankees in the American League play-offs on Thursday night, October 23rd, there was a little more action off the field. Hoping to see Angels' left fielder Juan Rivera do some good during his at-bat an exuberant fan was seen walking around the rock fountain area behind centerfield and eventually took a plunge in one of the stone lined pools.

The first thing that came to mind, of course, was that the guy must have had a lot more beers then the number of innings played. The surprising detail that came to light is that according to police he was not drunk and "unable to care for himself or a danger to others". He will be charged, however with a misdemeanor trespass under Penal Code Section 602. Another possible charge could be Penal Code Section 415 disturbing the peace, also a misdemeanor. Trespass can carry a sentence of 6 months in jail while disturbing the peace can carry a sentence of 90 days. Generally, neither charge results in jail time for a first time offender.

The bottom line on this case: This Angels' baseball fan likes his fame with a side of trespass, please!
Client Reviews
Get in Touch
Fill out the contact form or call us at
(714) 547-4636
to schedule your free consultation.
Free Consultation

Available 24/7

Se Habla Español