Family Sues Los Angeles County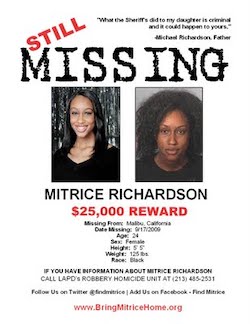 Mitrice Richardson was a graduate of Cal State Fullerton in Orange County and vanished last September near Malibu. Her family has now brought a suit against Los Angeles County for their lack of efforts. The Richardson family's attorney is alleging negligence, intentional infliction of emotional distress and wrongful death at the hands of the Los Angeles County Sheriff's Department.

Richardson was last seen in September when she was arrested one night for not paying a bill at an upscale Malibu restaurant. She was later released from the sheriff's station without her car, phone or any money. Deputies let her go without conducting a psychological evaluation when strong evidence indicated Richardson was having mental problems at the time. Richardson's father, frustrated, commented: "I've been begging. I've been pleading. I've been asking for all the help I can get. I haven't gotten anywhere."

The Sheriff's department is saying, in their defense, that Richardson did not seem mentally incapacitated to the point where they would deem a mental evaluation was necessary.

The multi-million dollar lawsuit is now pending.
Client Reviews
Get in Touch
Fill out the contact form or call us at
(714) 547-4636
to schedule your free consultation.
Free Consultation

Available 24/7

Se Habla Español