Motorcycle Riding Pastor Convicted for Fight in Bar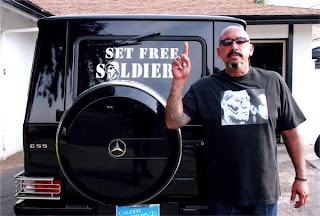 Pastor Phil Aguilar runs a Christian ministry; he also provides shelter and assistance to people looking to get sober. His organization is Set Free Worldwide Ministries. He is also the leader of Set Free Soldiers a Christian motorcycle club that rides on Saturdays and has Bible service on Sundays. Aguilar became a follower of Christianity when he was serving time for child abuse for hitting his stepson. His most recent contact with the criminal justice system stems from an incident with another motorcycle club, the Hells Angels in 2008. A fight broke out at a bar and after an investigation the District Attorney filed charges of street-terrorism and felon in possession of a weapon against him. The DA investigated him for possible ties to criminal gang activity and after raiding the residence of some members they did find weapons. Aguilar was sentenced to probation for a misdemeanor for a bar fight with the Hells Angels. Another member received eight years for stabbing a member of the other club. Aguilar maintains that his criminal ways are in the past and he now focuses on Jesus and helping others turn their live around. See, Penal Code Sections 240, 242, 12020(a) (1), 186.22, 245(a) (1).
Client Reviews
Get in Touch
Fill out the contact form or call us at
(714) 547-4636
to schedule your free consultation.
Free Consultation

Available 24/7

Se Habla Español