New Evidence Revealed in Amanda Knox Case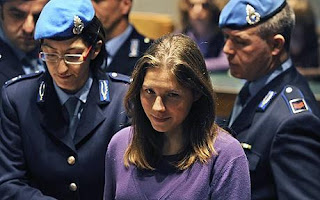 Who can forget the infamous case of Amanda Knox, the young American girl sentenced to 26 years for brutally murdering her British roommate while studying abroad in Perugia, Italy?
Well, an interesting twist has now developed in this sordid tale which may help Knox's appeal. An Italian mobster currently serving time, has given a videotaped statement saying his brother, not Knox, killed the 21-year-old Meredith Kercher back in 2007.
Luciano Aviello said he tried contacting the Perugia court three times last year with his story, but was unsuccessful. He finally gave his statement to Knox's attorneys last month when they visited him in the Italian prison, which will be used by Knox's lawyers in her upcoming appeal.
Aviello, who comes from Naples, is a member of the Mariano crime family and is currently serving 17 years for his association with the mafia. He has testified against the mob in several criminal trials, but always from behind a screen so as to protect his identity for fear of retaliation.
In his statement, Aviello points the finger at his brother, Antonio, for the murder of Kercher. He says that Antonio confessed to him about killing Meredith and then asked him to hide a blood-stained knife and set of keys. Knox's attorneys say Aviello's information is significant and worth investigating, since the keys to the house where Kercher and Knox lived were never found.
Client Reviews
Get in Touch
Fill out the contact form or call us at
(714) 547-4636
to schedule your free consultation.
Free Consultation

Available 24/7

Se Habla Español