Domestic Violence Awareness Month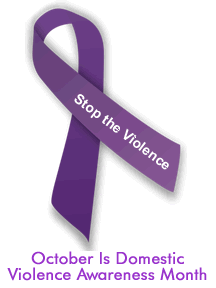 On September 30, 2009–the eve of Domestic Violence Awareness Month, President Obama remarked how this violent epidemic "touches the lives of Americans of all ages, leaving a devastating impact on women, men, and children of every background and circumstance."

This month is Domestic Violence Awareness Month. Two different California code sections explain domestic violence. Under Penal Code 243(e) (1), domestic violence occurs when a person purposefully touches his/her partner in an offensive or angry way. A partner is defined by the code as your current or former spouse, your fiance/fiancee, someone you have lived with or currently live with, someone you have dated or are currently dating, or your child's parent. If an injury results from the contact, then one can be charged under Penal Code 273.5(a) – Corporal Injury on a Spouse. In addition to fines and jail time, a person must also complete a one year batterer's treatment program if convicted on one of the above offenses.

However, if you are charged with a domestic violence offense, there are some defenses available to you that an experienced criminal defense attorney can explore. A person accused of domestic violence can claim the defense of self-defense. Self-defense occurs when a person uses force against another because they reasonably believe that they are in imminent danger of bodily injury or that someone else is in imminent danger of bodily injury and that they must use force to protect them. The person using the force must not use more force then is necessary to defend against the danger. Another defense available to people in domestic violence situations is that of mutual combat. This defense allows the first person who used violence to claim self-defense if: (1) He/she in good faith tries to stop fighting; (2) He/she indicates in a way that a reasonable person would understand that he/she wants to stop fighting and he/she actually stops fighting; (3) He/She gives opponent the opportunity to stop fighting. If the District Attorney finds that the defendant acted in self defense as described in the two situations above then the case may be DISMISSED. Similarly a jury can find the Defendant NOT GUILTY on the same grounds. Criminal Law Updates by Law Offices of William W. Bruzzo. The Law Offices of William W. Bruzzo represent Defendants charged with Penal Code Sections 273.5 and 243(e) (1).
Client Reviews
Get in Touch
Fill out the contact form or call us at
(714) 547-4636
to schedule your free consultation.
Free Consultation

Available 24/7

Se Habla Español